Mar 10, 2008

 - Europe is on the move!

Just in time for the upcoming Tourality season, these are new supported countries: Czech Republic, Finland, Hungary, Ireland, Poland, Portugal, Slovakia, Spain. From now on you can move your mobile in all larger cities of 14 european countries. If you live in another city not listed under Where to play you can simply post a request in the forum. All of those from another country: check back regularly - we'll add new countries soon!

Now it's up to YOU to create tricky Spots and exciting Game-Templates here at tourality.com! These are the basis for playing exciting Tourality games outdoors and will be shared among the community. Tell your friends to become part of the community with this quick email invitation form.
Jan 1, 2008

 - All the best for 2008!

The team of creative workline wants to wish you all the best for the new year! We will keep working with full commitment on making Tourality even more attractive to you but at the same time keeping it free of charge also in 2008.
We want to thank those that provided valuable feedback to us so far!

Keep moving!
Nov 11, 2007

 - 1st rank at 'GEWINN-Jungunternehmer' competition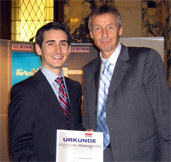 creative workline, the team behind Tourality, comes of as the winner in the category "E-Business/IT" of this year's GEWINN-Jungunternehmer-Wettbewerb competition! The project Tourality could convince the jury of the most important Austrian competition for young entrepreneurs and start-ups.

In the picture you can see Dr. Martin Bartenstein, Austrian Minister of Economics and Labour, with Klemens of creative workline.

Link: GEWINN-Jungunternehmer-Wettbewerb 2007
Oct 28, 2007

 - Additional EU countries supported (UK, NL, BE)

Again we have expanded the supported regions! Now you can play Tourality also in the United Kingdom, Belgium and the Netherlands. In the main cities of these countries you can create Spots, Points of Interest and Game-Templates yourself after signing up right here at tourality.com - for free!

The Tourality GPS game as well as the portal tourality.com are currently available as multi-language versions in English and German.

Find a complete list of all supported regions/areas at Where to Play.
Oct 26, 2007

 - Tourality 0.8 Beta Released
The most important new feature is the support of integrated GPS receivers. For the technology freaks among you: It uses JSR 179 (Location API). As from now you can play Tourality with a mobile phone that is equipped with an integrated GPS module - for example the Nokia N95 or E90. Hence you don't need a Bluetooth GPS receiver any more.

There are some additional improvements and we recommend to upgrade to the new version. We would be glad to receive your feedback about the current version in the forum or via the contact form!

Download Tourality 0.8 here

The portal tourality.com was updated as well. Among other things there is now a page for media downloads and a Shout!box in the forum where users that are not logged in can post too.
Oct 11, 2007

 - Tourality's quality awarded by EUROPRIX

We are proud to announce that Tourality has been awarded the official "Top Talent Quality Seal" by the European Multimedia price EUROPRIX Top Talent Award 2007!

What EUROPRIX says about Tourality: "Your achievement is outstanding because 278 entries from 29 countries were evaluated by the jury team of the EUROPRIX Top Talent Award.

Only 48 projects have been chosen to receive the quality seal. Your project was evaluated in two rounds by two different panels of jurors and with the award of the seal they wish to recommend your project to consumers and users. The Top Talent Quality Seal is proof that your project is highly innovative and creative."
Aug 26, 2007

 - Spreading in Central Europe

We have expanded the supported areas. Currently we cover the big cities in Germany (Berlin, Hamburg, Frankfurt, ...), Austria (Vienna, Graz, Salzburg, ...) and Switzerland (Zurich, Berne, Basel, ...). In these areas you can create Spots, Points of Interest and Game-Templates yourself after registering at Tourality - for free! Based upon these Game-Templates you can then kick off Tourality games in your area.

Here you can see which countries, regions and areas are currently supported by Tourality.

You don't live in one of the supported areas but want to play Tourality as well? Then stick up for your city or your area by raising your voice in the forum. We are constantly working on the expansion of supported areas in Europe and are looking forward to receiving your proposals!

New at Tourality? Brief overview and quick guide
Aug 4, 2007

 - Tourality.com becomes Web 2.0: New Tourality version 0.7 beta!

New under myTourality:

1. Create Spots, Points of Interest and Game-Templates on your own in your home area.
2. Review Game-Templates in your surroundings in order to activate them!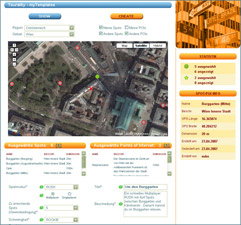 With these new features Tourality becomes Web 2.0 because from now on you define the content of Tourality yourself! Start creating Spots (= geographic targets) online that you must reach in reality with your mobile phone :)

Newly created Game-Templates become active and thus playable with the mobile phone as soon as they are accepted by five other users in your area (review). In addition you have the possibility to rate Game-Templates directly after playing. If you create cool Game-Templates in your town or area chances are that they become listed among the "Top Game-Templates" at myBase!

Sign up right now and invite your friends too - because only together you can enjoy Tourality to the fullest :-)
May 1, 2007

 - Tourality - start moving your mobile!

BRAND NEW! Since 2007-05-01 there is a new kind of game for your mobile phone. The game is all about being on the move outdoors equipped with a Bluetooth GPS receiver and reaching spots ahead of your opponents in real-time.

Spots?
Spots are geographically defined points that must be reached in reality by foot, on skates, on a bike, or by any other means of transportation. The spots are given but it's your challenge to find the best way!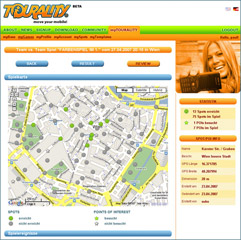 Competition?
Exactly! Now you can compete against other players in your surroundings based on Game Templates in Tourality - 'Player vs. Player' or 'Team vs. Team'. You all are in the same area at the same time in the same game ;) The game is a mixture of virtuality and the reality of your movement; because only if you "move your mobile" you will advance in Tourality.

Game Templates?
You always play Tourality based on Game Templates. These are "game instructions" and a set of rules that define which spots have to be reached when. These Game Templates can be constricted by various criteria. In addition there are four different game modes: Spot RACE; Spot CHASE, Spot RUSH, and Spot ACT!.

That's how to start into the Tourality season:
1. Check all information on the platform tourality.com.
2. Register your personal Tourality account under Signup – free of charge!
3. Download Tourality (currently in a beta phase) to your mobile phone.
4. Get out of your home with a mobile phone and a Bluetooth GPS receiver.
5. Create a new game or join a currently running game in supported areas in your surroundings.

HAVE FUN PLAYING TOURALITY :)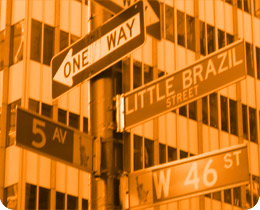 NEW SUPPORTED AREAS
| | |
| --- | --- |
| Lagos | Portugal |
| Portimao | Portugal |
| Faro | Portugal |
| Lisboa | Portugal |
| Portalegre | Portugal |