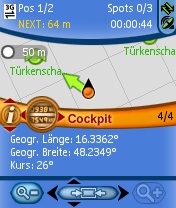 Support Tourality on Twibbon/Twitter:
Sep 25, 2009

 - What's going on...

...in the world of Tourality? Just because there were no news here recently doesn't mean that we're lazy! The opposite is the case: We're planning, designing, developing, talking to people, etc. We're constantly listening ... [more]
Jan 30, 2009

 - We are on UK TV tonight!

Tourality will be featured in The Gadget Show on UK terrestrial channel Five this evening at 8pm. The show will then be available on their website w... [more]
Jan 30, 2009

 - Game server and web down

Yesterday from about 11 pm CET until late in the night our website as well as our game server was not available. We would like to apaologize but it was not in our hands but in those of our provider. Now everything should b... [more]
Tourality - move your mobile!
Outdoor GPS Multiplayer Game for Mobile Phones - Freeware
Real Life GPS Game
Mobile Outdoor Action
Singleplayer, Player vs. Player, Team vs. Team
Make New Local Friends
Tourality News, Screenshots, Signup For Free, Download Now, Fast Facts. Multiplayer GPS Spiel, freeware, download java midlet, Handyspiel, Handygame, gratis, Outdoor GPS, Schnitzeljagd, Trendsport, LBG