What is Tourality?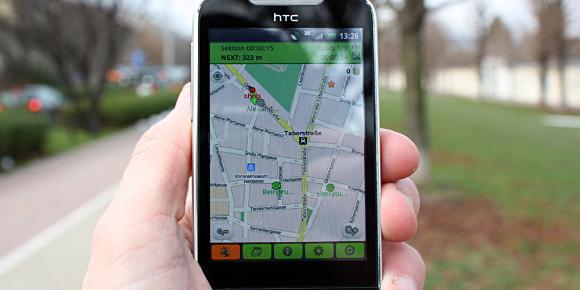 Tourality, as a location based game (LBG), is a novel kind of game. Your real environment such as a urban district, some park or even a wood serve as a virtual playground, where your location and movements are identified via GPS-signal emitted from your cell- or smartphone. Your target is to reach certain predefined spots in the game set by moving towards them with your mobile device.
Challenges
You can battle other gamers in the multiplayer mode, join forces in a team or even compare your highscore as single player with other gamers in the Tourality-community. Unlike Geocaching, Tourality focuses on time, your aim is to be faster than the other. In doing so it is your very own choice whether you play the game sets by feet, use inline skates, a bobby car, or even motorized vehicles. If only you are fast!
Game Sets
The game sets are being generated automatically for you via an OpenStreetMap interface. This means you won't lose any time before being able to play Tourality. This location based exergame has no limits and you can play it anywhere in the world – the only requirements are a GPS-enabled cellphone, an adequate GPS-signal, and a mobile data plan.
Goodie Spots
In a game set, so called "goodie spots" can appear, conceiling something special. This could be a treasure (gold), but also a thief, who could snatch all the gold you've collected so far! The robbed gold is being taken to a hide-out on the game set. Imagine you'll find this hide-out – you then can keep all the booties for yourself. So keep your eyes peeled, because goodie spots can also disappear again if you're too lame.
Gadgets
Gadgets are virtual items and devices you can buy, activate and apply throughout the game. By means of gadgets you can beam yourself to the next spot (jumper), blind your adversaries for some time (blinder) or buy a hot tip from a secret agent as to where the stolen gold might be hidden.
Gold
Gold is the virtual currency in Tourality. You can win gold by finding goodie spots in the game, resolving certain game sets within a certain time span or by leading your region's high-score. With this gold you can buy gadgets that give you advantages in the game. You can also increase your gold-reserves by winning some of the "trophies".
Trophies
Trophies are awards you'll get for certain activities, such as breaking a highscore by reaching a spot in a new minimum time or designing your own game sets. Your trophies will be shown in your profile and thus you can compare yourself with others.
Tourality in action
We uploaded a screenshot story of a typical Tourality game (player vs. player with 3 players) in our Facebook photo album. This should give you a feeling of how our urban game will look like on your mobile. Have fun!